Most of the welders perform all the fabrication work on the floor. One can work on the shop floor without a welding table. No grounding needed, no worry about cutting the base etc. Though it is not mandatory to have a welding table, owning one will comfort the welder with better accessibility and thus improve his efficiency.
So, what exactly is this Welding Table?
A welding table is a waist-height platform that provides a flat and stable surface to work on. It operates like a workbench. The traditional welding table has a solid horizontal surface to weld. While the latest modular welding tables come with holes and railings that allow you to mount clamps, jigs and position the working piece without moving the equipment.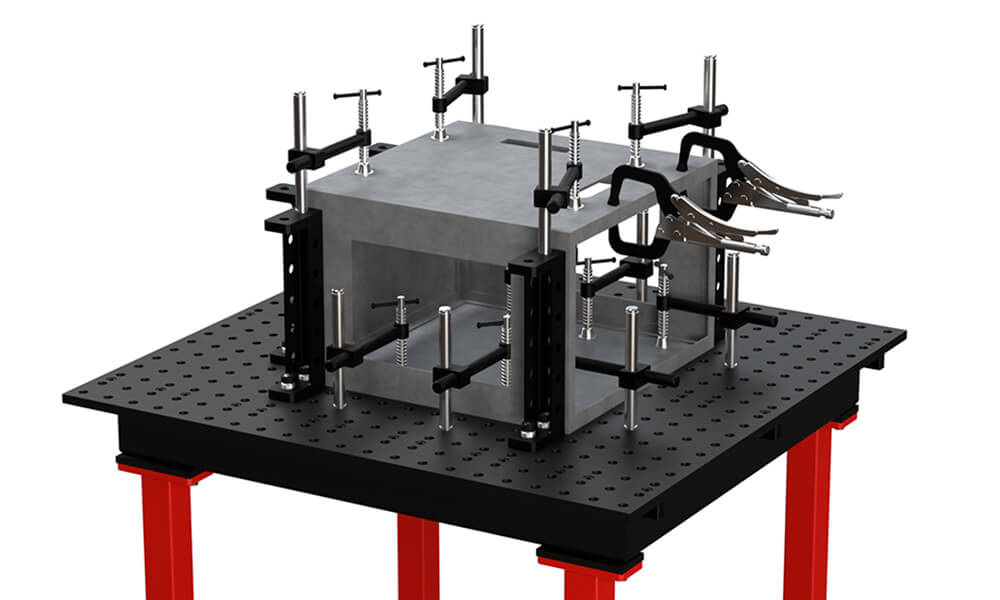 Extremely high temperatures and spatter are produced while joining metals. A table that can withstand high temperatures, pressures, frictional work etc is required in welding. Some of the uses of a welding table include:
It can assist the welder in squaring, gauging, measuring etc operations.
Provides comfort to the welder thus increasing the productive time.
You can make a personalised DIY welding table according to your requirements. If not, you can buy one from the market.
The tables with holes and slots help you to quickly attach or detach clamps to firmly hold the workpieces of different sizes in position.
Fixed and Portable Welding Table
There are mainly two kinds of welding tables to serve your needs.
If you have larger or heavy-duty projects to work on, then you need a large table with fixed legs that can withstand heavyweights. One such table is a Fixed Welding Table.
If you plan to work on smaller projects but at multiple sites, an Adjustable or Portable Welding Table is the best option. You can fold the adjustable welding table, carry it with you and unfold it at the worksite. The table also comes with wheels so that you can just drag it to desired locations instead of carrying it thus minimizing the efforts.
When compared to fixed welding tables, the portable ones are smaller in size, can withstand lesser loads comparatively.
A 2-dimensional welding table is a basic, flat workbench with one working surface which is precision machined.
Our Cyclotron 2D welding table has a nitrided working surface with high fatigue strength and corrosion resistance. The clamps and jigs can be easily fixed in the holes manually or automatically. As a result, the precision reaches up to microns. To know more about the product, you can click here and get a call back from the manufacturers.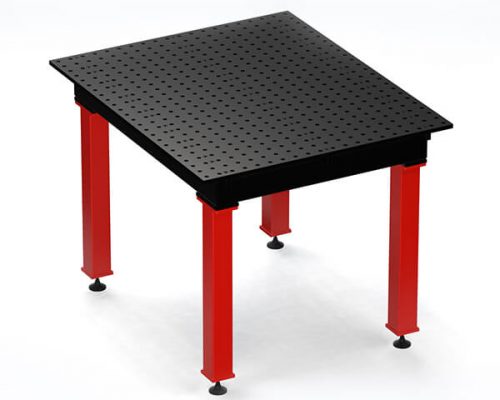 To accommodate a wide variety of parts, the 3D welding table comes with 5 working surfaces (1 top+4sides) that are precision machined.
The Cyclotron welding tables have a 3 hole drilling pattern on side surfaces to extend their functionality.  With a maximum loading capacity of 7 tonnes, this welding table qualifies all the requirements of both horizontal and vertical applications. Quick and precise positioning of the clamps not only makes work accurate but also enhances productive time. The additional grid on the sides unlocks multiple clamping options. To make your move, request a call back from the manufacturers.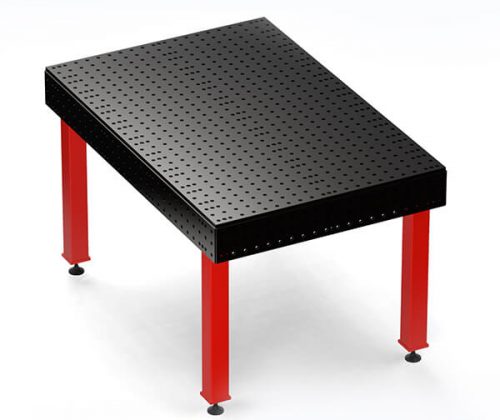 Imagine a welding table that can tilt and rotate according to your convenience. It is difficult to weld a few parts on the horizontal table. This is where a rotary welding table gets in. It provides complete access to the welding workpiece to provide better weld quality with increased production rate and minimum efforts.
The tolerance reaches up to decimeters. At Cyclotron, we design our rotary welding tables in two variants, one is manually operated and the other is motorized. It has 360⁰ rotation of the table. These tables are capable enough to move considerable weights at various speeds. The tabletop comes with one precision machined surface with holes of 16 mm diameter that are used to mount clamps and fixtures for welding. To get one, request a call back from the manufacturers.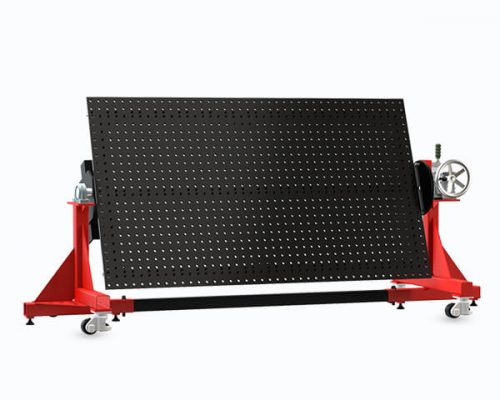 The welding tables are to be grounded to prevent voltage leaks. It not only protects the welders from electric shock but also prevents the high-frequency radiations from the welding area to interfere with any electric devices in the vicinity and cause damage.
Loved It? Do share it with your friends and colleagues